I LOVE a peep behind the scenes of other businesses, so I thought you might enjoy a bit of back story to what goes into running a jewellery business.
Because I have two children of school age, I am in the fortunate position of being able to work during the day, and less in the wee small hours or rushing to get snippets done when it's nap time.
But the day starts early, sometimes 5.30 but usually 6am to get all the household chores done.
By the time the girls arrive at the breakfast table at 7.30am a lot has already happened.
Once we whizz out the door to their two different schools, B the dog needs his burst of exercise, so we march around a well trodden route, to burn off a bit of energy (him, not me, I have hardly any), then it's back home to work.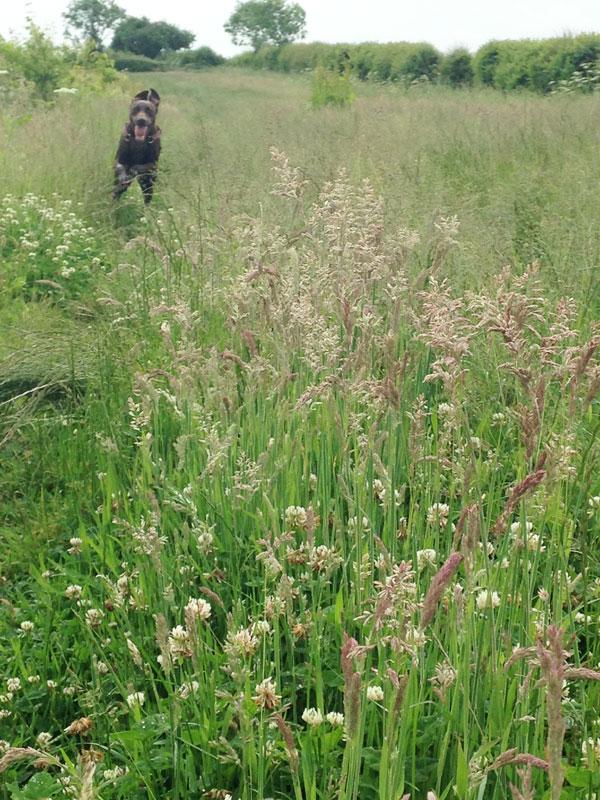 The workshop I currently have is one of the nicest I've ever had.
The view's not great, but the space is.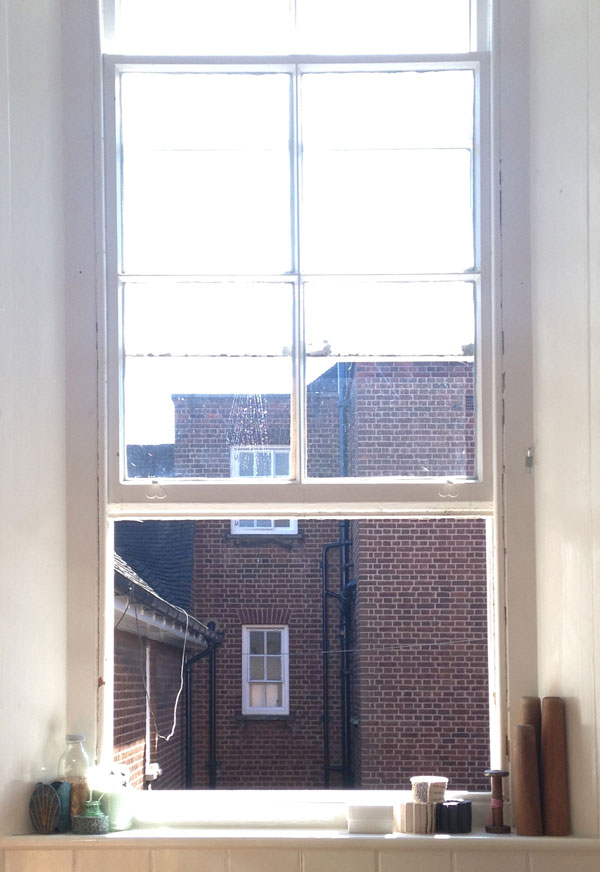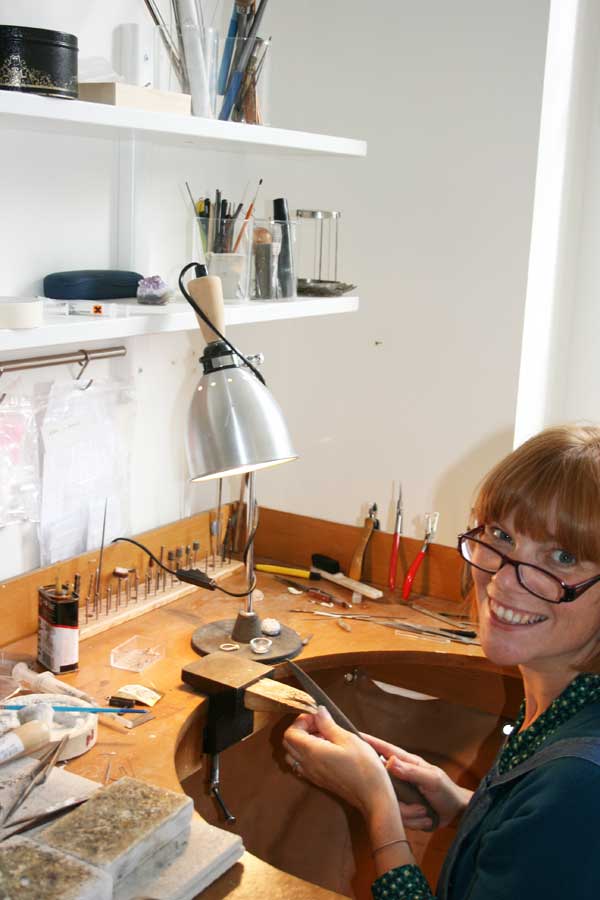 The pickle (a dilute acid bath which is used to clean oxides off the silver after heating) which will have been turned on in the morning, should be up to a decent temperature by now, so there's nothing to slow down the making process.
Most designs are made to order so I tend not to make lots and lots of any one design.
However, if it's a bespoke design using inscribed rings, I will make more than I need to allow for mistakes. It's very easy for the letter punch to slip and mark the ring incorrectly, so it helps to have back ups.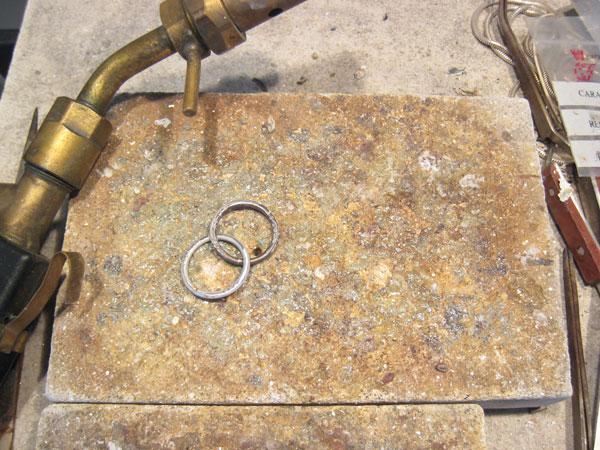 A large proportion of orders these days involve re re-modelling old jewellery or bespoke commissions.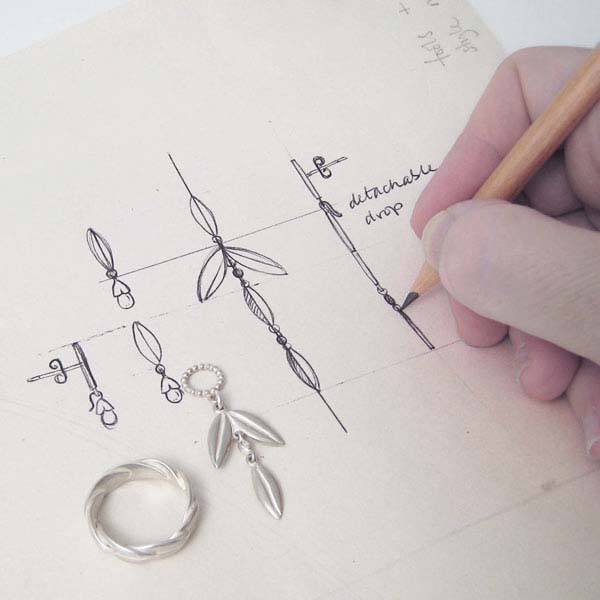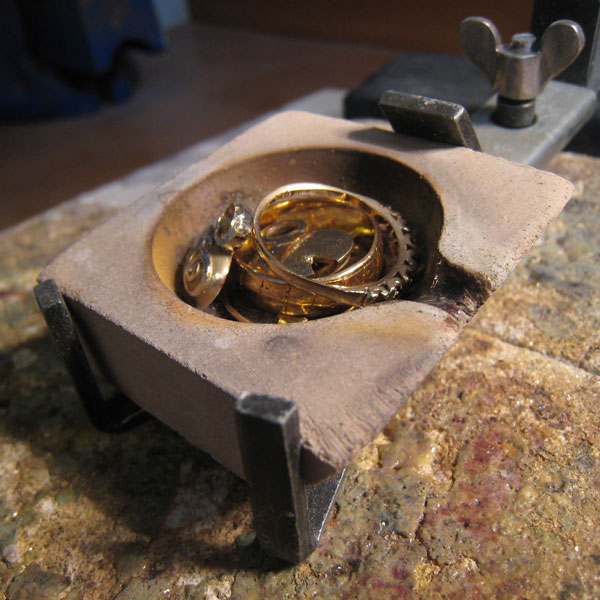 A selection of old jewellery about to be smelted and recycled to become new jewellery.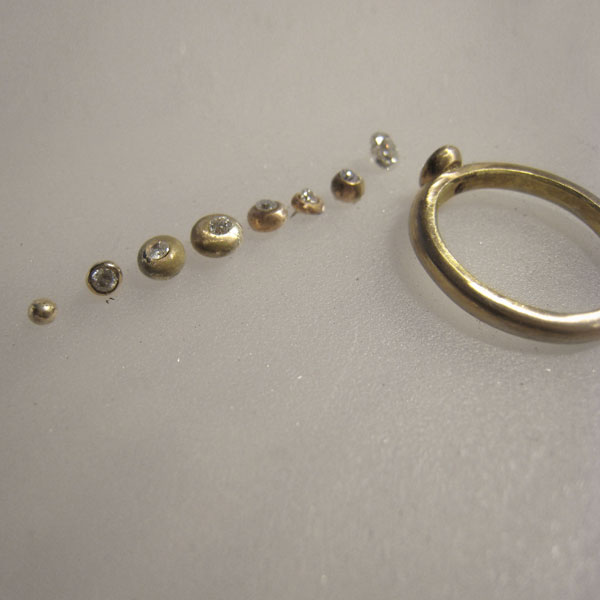 Work in progress…teeny tiny ball settings in 18ct gold with their diamonds ready to be set.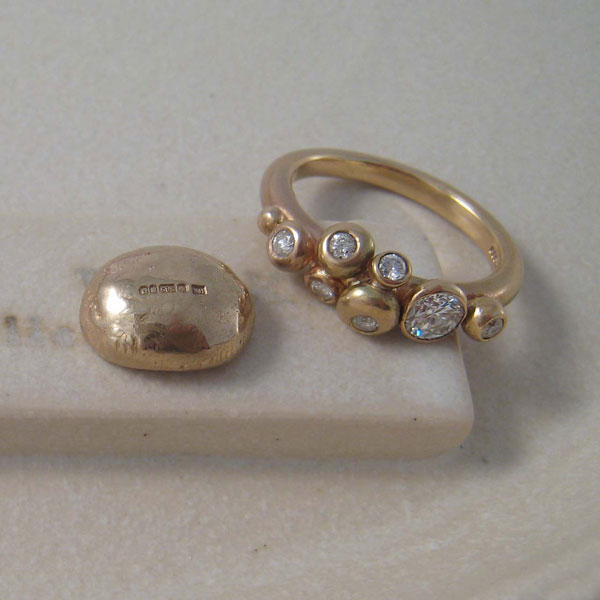 This is a ring made from re-modelling the client's own gold & diamonds.
That means a bit of time in front of the computer executing designs and costings.  
It's astonishing how long something as apparently simple as calculating a price can take.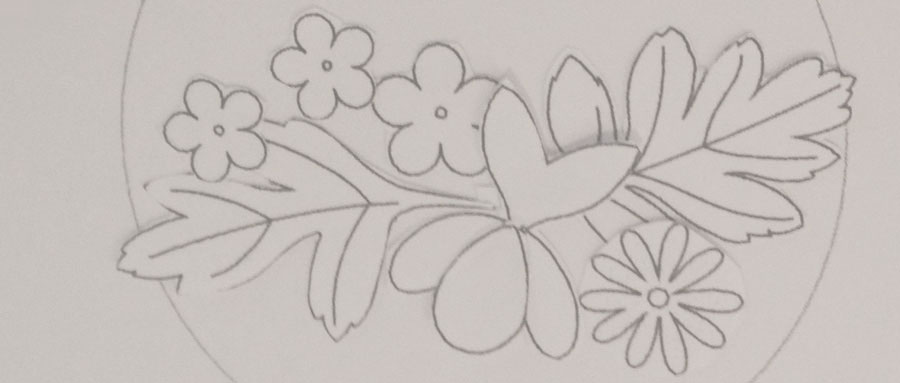 A development 'sketch' which was used to help the client & myself work together to design the motif for this very special solid silver box. In fact it is little pieces of card with the designs on, which we shuffled around until we found an arrangement we loved.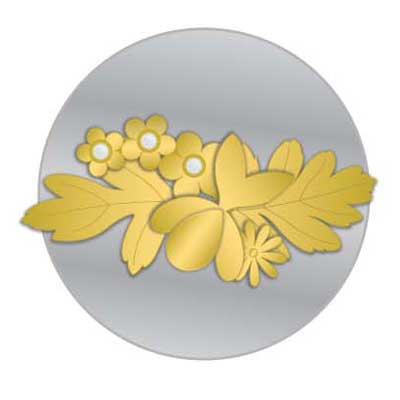 Then, to help visiualise the scale and overall finish, a computer rendered drawing was created.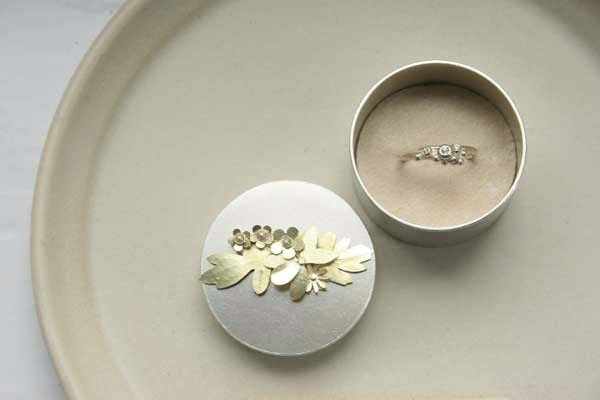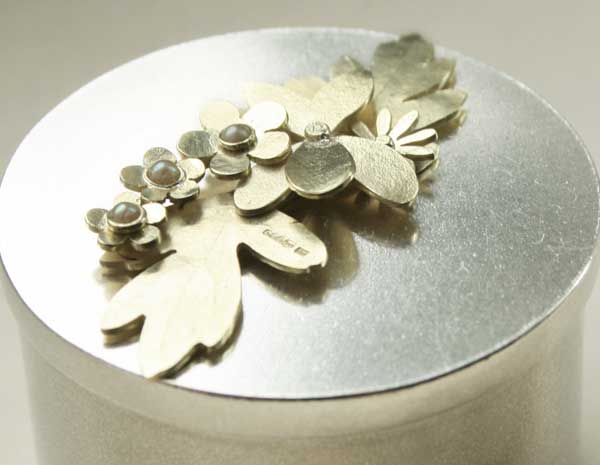 This was the finished result.
Bespoke commissions are so inspiring, as they often trigger new ideas.
In fact Garland, Stella and Jolie all evolved as a result of bespoke commissions.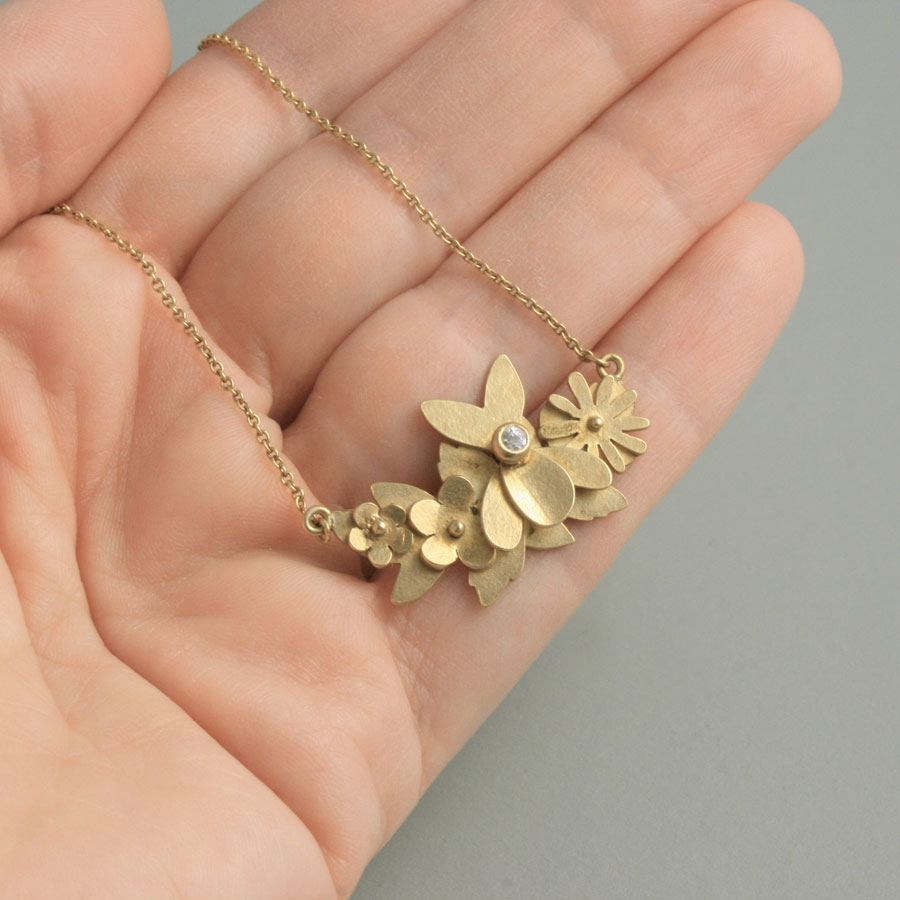 This is the garland necklace which was inspired by the client's commission.
Because the working day is short, lunch is fast and often something silly like a pot noodle or a homemade smoothie. It's not ideal, but as I have to wrap things up by 3pm when I have to leave and collect the girls, it doesn't matter because I can eat with them at 5ish.
At about 2pm I begin to prepare for a trip to the post office. This is my favourite part of making orders
…wrapping them up. 
Oooh, I love a bit of luxe packaging - I even spritz the tissue paper with some Neom fragrance.
A bit over the top perhaps, but I think it all adds to the experience when the customer opens the parcel.  
The ribbon is deliberately tied so that it can be removed easily by simply sliding it off the box.
That way, if the jewellery is a gift, you can check it without faffing around trying to re-do the bow.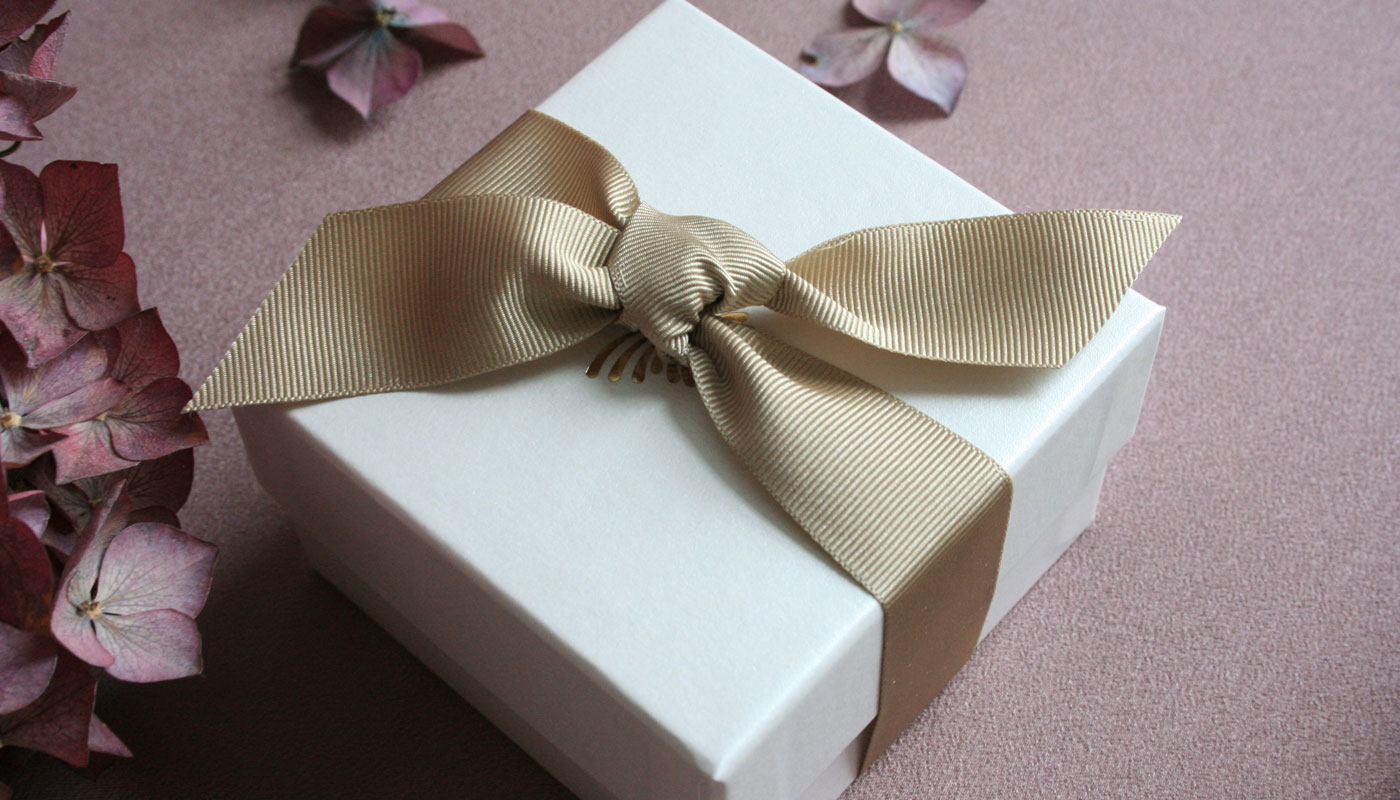 Between 3pm and 8pm it's most family related stuff, but occasionally I can sneak onto the computer to do a bit of work while they watch a bit of telly.
If the sun is shining, we might spend a bit of time in the garden before tea…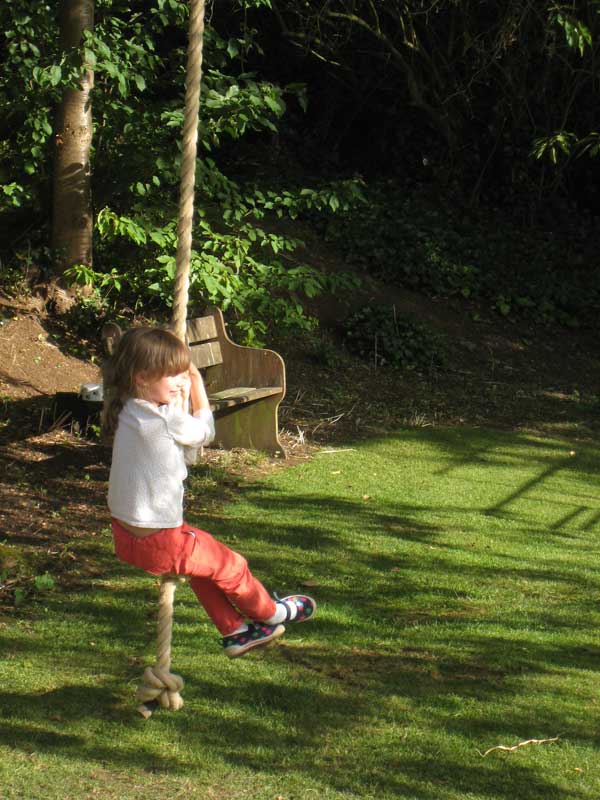 By the time the sun sinks low in the sky, and all the home-life duties are done, I'm about done too.
But it's easy to browse Instagram whilst munching on biscuits and watching something on catch up TV.  I make sure never to check emails after 8pm, because it just gets my head buzzing. They can wait until morning, when it all begins again.